Chickens are probably the only pets that give you breakfast each day!
We have 3 chickens, not because we need 3 eggs a day, we don't. Rather, we can get through one or two eggs each day between us on average, but chickens are flocking animals. They like to hang around together in groups. One chicken would be lonely. I think that it would be cruel to have just one solitary bird. Two chickens would be a bare minimum, at least they would have a friend, but three allows for more of a dynamic relationship between them. Even more would be better for them, maybe 10 would be a comfortable number for them, I'm not too sure, but we don't want or need that many eggs each day. We don't want to be chicken farmers.
We chose three hens, even though it was too many for us, but only just enough for them to feel comfortable. It's a compromise. We want to be responsible animal husbands. We keep our hens locked in their wire reinforced run until 9 or 10 in the morning. Hopefully well after the fox has gone to bed, and we lock them back in in the late afternoon, at 4.30ish, well before he comes back out in the evening. This has worked quite well so far. But foxes are cunning and patient.
Previously, we kept Old English Game Fowl. They were very edgy, skittish and flighty. Very highly strung. They could fly really well, easily capable of flying up into the highest gum tree. We always knew when the fox or a dog was about, as the chickens would all squark and fly up into the trees. We never lost a chicken to a fox. But the ducks weren't so fast and were sometimes taken. The main problem is that our land isn't fenced, only the gardens and orchards are fenced. We want the local wallabys, Eastern Grey kangaroos and other wildlife to be able to wander through, drink at the dams and eat the grass. They were here on this land before us.
Our current chickens are hybrid ISA Browns. They were commercially bred for a life in intensive production in cages. We saved them from that fate. They are great egg layers, but the real reason for choosing them instead of a pure breed this time around is that they are so amazingly tame, friendly and personable. They seem to just love hanging around with us in the garden, 'helping' us do whatever it is that we find our selves doing at the time. When we go inside for lunch, they usually hang around in the front garden, waiting for us to come back out again. it's impossible not to be fond of them. They are very cute.
I've read that chickens are the new dogs. There was an article in The Guardian Newspaper recently saying as much.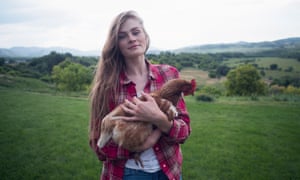 The article was a lightweight bit of flim-flam, but there just might be a little bit of truth in it.
I think that they make great pets, because you can go away for a couple of days and they seem quite contented in their wire run, with dirt to scratch in and dust bath in and plenty to eat and drink.
We have built the run to give them loads of space to roam in, but they very rarely have to spend any time in there as we have them out with us almost every day.
Oh to be a chicken next time round! (well, one of ours anyway)